Overnight Horse Treks
Imagine finding yourself and your friends just the right Horse each and together with a guide, riding off over scenic hill country, mountain streams and disappearing into the sunset.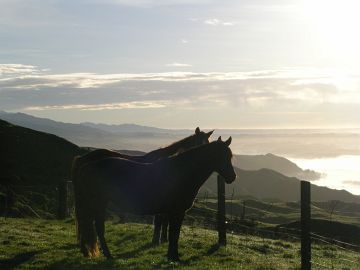 Our Romantic Overnight Horse Trek is a Relaxing Twenty Four Hour Adventure to another land. Beginning after lunch on the first day and returning just before lunch on the second day.
This Trek is fully catered with an excellent Campfire cooked evening meal and a full cooked breakfast in the morning.
Totara Knob Outpost, our campsite, is tucked away high up in the Tararua Ranges for that 'on top of the world feeling'. There are flush toilets and even hot showers, which are heated by fire, not electricity as we are in the wilderness, remember.
Your accommodation for the night is a beautiful little dolls house like cottage nestled away privately in regenerating bush. This cottage has a loft with mattresses so all you need to bring with you is your bedding, a pillow and some spare warm clothes.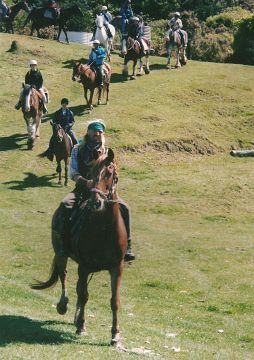 No problem with weight as all our luggage is taken separately by four-wheel drive to the campsite.
The trekking and our Horses are suitable for all levels of rider ability as we do not want to leave anyone out. All together there is around five hours riding with the bigger ride on the first day with awe-inspiring views of the Manawatu and Tararua District.
Cost $225.00 per person which includes your Horse, meals, accommodation and the cartage of your luggage to the campsite. All you need to bring is your bedding (we supply mattresses), pillow, warm clothes, a torch and your camera. Yes you may include a bottle of something for medicinal reasons.

Timeless Horse Treks - Home of your Favorite Horse Trekking Adventure
Timeless Horse Treks
Cameron Horne
Gorge Road, Ballance RD3, Pahiatua, New Zealand.
Telephone (06) 3766157 Mobile 027 4468536
for more information.