Pioneering Odyssey Treks
Come with us on a Horse Riding Adventure of a lifetime!! Have you ever dreamt of riding your horse off into the beauty of a New Zealand sunset? Trekking original pioneer trails across a seemingly endless wilderness of scenic hill country, rivers and valleys.
Trek multi-day with us from the Manawatu Gorge, across the deserted Tararua District to the Pacific Coast at Akitio.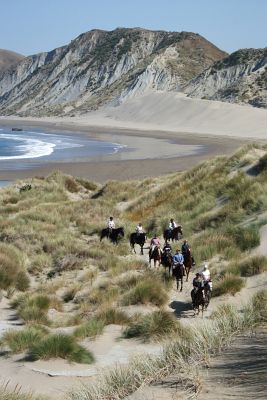 Wednesday the 24th of March till Wednesday the 31st of March 2010

Tuesday the 9th of February till Monday the 22nd of February 2010

Timeless Horse Treks - Home of your Favorite Horse Trekking Adventure
Timeless Horse Treks
Cameron Horne
Gorge Road, Ballance RD3, Pahiatua, New Zealand.
Telephone (06) 3766157 Mobile 027 4468536
for more information.