8 Day Pioneering Odyssey Trek
This great adventure begins at the home of "Timeless Horse Treks", just over the Ballance Bridge at the mouth of the Manawatu Gorge. Gathering around morning teatime to assure all is in order before riding off into the sunset. Yee Haa!!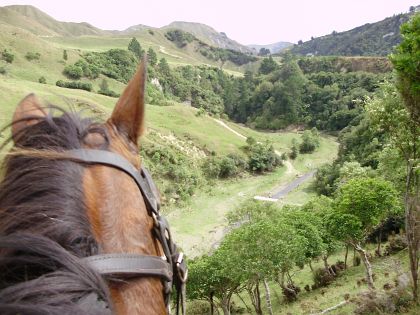 Our first lunch stop is next to the Manawatu River at Ngawapurua. After which we have a relaxing afternoon's ride disappearing into a valley of Kohinui for our first night out together, horses and all.
The next day we trek the Waewaepa and Puketio Ranges via farmland, Scenic Bush Reserve, the Makairo Track, and a pass known locally as "The Rising Sun". This is where we cross over a most significant Mountain range for our first views of the Three Kings and the vast Pongaroa valley. We really do have a long way to go. On average at least six hours riding a day.
Thanks to many local farmers and landowners, we get to ride across some most amazing horse riding countryside. Horse riding that dreams are made of! Finally after yet another exhilarating days riding we discover the hidden village of Pongaroa...
Civilization: Complete with Garage, Store, Farm Supplies and of course the local watering hole. Best we camp here the night!
Today is a rest day. We are in such a great place with excellent facilities so let's enjoy them. Nothing planed today but with worlds of opportunity just around the corner.
Well watered, washed and rested we still have an ocean to find. Hills, hills and more hills leads us too more, significant landmarks. This time the unique Three Kings rock formations, moon crater-like Papa Bluffs and our first look at the Mataikona River Valley and what's to come!
Now this is real Horse Trekking!! The closest you can get to being lost in the wilderness and still riding out to where you're supposed to be at the end of the day. A day of riding rivers, hills and valleys in what can possibly feel like the middle of nowhere! True Adventure!
Yes! We must be close. I can feel it! Today we do finally meet the Pacific coast. A magnificent coastal ride up through the historic Owahanga and Moanaroa stations, to the coastal village of Akitio. Congratulations!! You've made it!!
Now you can relax and indulge yourself in well deserved home style comforts and a banquet of fresh local seafood. Wow!! Now what? You've made it!
Breakfast and time to return to our lives. We can arrange transport back to the beginning or you may invite your friends or families to come and meet you at Akitio.

Timeless Horse Treks - Home of your Favorite Horse Trekking Adventure
Timeless Horse Treks
Cameron Horne
Gorge Road, Ballance RD3, Pahiatua, New Zealand.
Telephone (06) 3766157 Mobile 027 4468536
for more information.