14 Day Pioneering Odyssey Trek
Come with us on a Horse Riding Adventure of a lifetime!! Trek with us from the Manawatu Gorge to the Tararua Wind Farm and then across the Tararua District to the Pacific Coast and Cape Turnagain.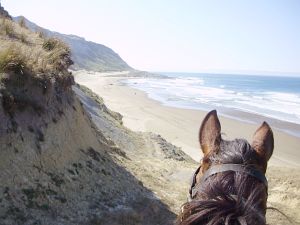 Have you ever dreamt of riding your horse off into the beauty of a New Zealand sunset? Discovering the history, splendor and tranquility of this disserted countryside. Trekking original pioneer trails across a seemingly endless wilderness of scenic hill country, rivers and valleys. Living and learning the life of our pioneering Shepard's and their love of the Horses that helped pioneer this land while indulging in the authentic comforts of historical Sheep Station Shearer's Quarters, Hunters huts, Owahanga Marae and other associated Rural Community treasures.
Trek with us from the Manawatu Gorge to the Tararua Wind Farm and then across the Tararua District to the Pacific Coast and Cape Turnagain.
All you need to bring is your love of multi day Horse riding in a new land.
This trek allows you to experience the thrill and adventure of Multi day Trekking while being able to enjoy some modern day comforts along the way.

Fourteen Day Pioneering Odyssey Itinerary
Day 1. Introductions and Half Day Trek to Totara Knob Outpost.
This incredible trek begins at the home base of "Timeless Horse Treks" and "Beyond the Bridge Café" in the rural countryside of Ballance, at the river mouth of the Manawatu Gorge Scenic Reserve. Now with all the excitement and nervous energy around while everyone is getting to meet their new horses and riding companions, there is plenty of time for a cup of tea and some lunch at our onsite Cafe. A good time to insure all is in order before riding off into the sunset. Yee Haa!!
Our first ride takes us from our base at river level up through scenic hill country farmland and into the largest Wind Farm in the southern hemisphere. This Tararua Wind Farm is made up of 150 Wind Turbines at the northern end of the Tararua Ranges.
Here we discover that 'on top of the world feeling' and the authentic accommodation of Totara Knob Outpost, tucked away high up in the hills above Ballance. Take in the awe-inspiring views of the Manawatu and Tararua Districts. Enjoy a refreshing drink around the campfire before dinner. Although we have temporally left the land of electricity we still have excellent facilities like cottage accommodation, flush toilets and even a bathroom with hot showers, authentically heated by fire.
Day 2. And we're off to the Dudley Arms Tavern.
After a hearty, campfire cooked, breakfast its time to saddle up and ride off east across the Mangahao River valley. Having packed a healthy lunch into our saddlebags we have the opportunity to stop next to the Mangahao River for a break and maybe a swim. Now, with all the excitement of our first river crossing, we head off through fertile Dairy Farming land to Mangatainoka, home of the historical Tui Brewery and Tui Beer.
Being back near civilization we stay here a night at the Dudley Arms Tavern, a superb example of a good old traditional New Zealand country Pub. Here you can enjoy a quiet drink at the Bar, relax in your room upstairs, enjoy a simple restaurant meal and learn about the abundant history direct from the locals.

Day 3. A mornings History lesson, then afternoon ride to the land of Wild Deer.
Now that you've learnt of the rich history here, there is time in the morning to go for a short walk to experience this history first hand with a free Brewery tour and tasting, finishing with lunch in the Tui HQ Café.
Just remember that after lunch we have a sizable ride off to our next accommodation site, high on the Southern end of the Waewaepa Ranges. In just an afternoons ride we have gone from a populated river valley area to being beyond roads end to reach the natural wilderness of the wild Deer. Get to spend the night in a newly built Deer Hunters Hut on the edge of civilization and experience life as a good old-fashioned Kiwi Deer Hunter. Lets hope there is Venison on the menu.
Day 4. Day ride to Waewaepa Station
Today we trek along and through the middle of the Bush covered Waewaepa Range. Getting to ride over Hill country farmland, Scenic Bush Reserve, the Makairo Track. A day when the riding takes us further away from any population and further into a deserted landscape of endless hills and valleys.
This land holds some rich farming history and tonight is our first look at the magnificence of a New Zealand Sheep Farming Stations Headquarters. With Farms and Shearing Sheds of this magnitude, the size of our group pales by comparison so here we stay to get an excellent taste of the life of a New Zealand Shepard. Meals and Accommodation here are in the comforts of the local Shearer's Quarters.
Day 5. Today we ride "The Rising Sun" pass.

Today we trek out through Waewaepa Sheep Station to a significant pass in the Puketoi Range known locally as the "The Rising Sun". From here we get our first expansive views of the Three Kings Rocks in the distance and the vast Pongaroa valley landscape before us. Hills, Hills and more hills for as far as the eye can see. We really do have a long way to go before we reach the coast! Good thing we are not in a hurry as there is so much to take in along the way. Tonight I need to find a spot to stay somewhere up Korora rd.
Day 6. Look out Pongaroa here we come!
Thanks to many local farmers and landowners, we get to ride across some most amazing riding country, where once all shepherding and stock work was done on Horseback. Finally after yet another day of exhilarating riding, up hills and down dales, we discover the hidden village of Pongaroa... And civilization again!
Appropriately this farming village comes complete with Garage, General Store, School and Farm Supplies outlet, and of course the local's Watering Hole. "The Pongaroa Hotel". Best we stay here for a while and taste the local Brew, chat up a few of the locals and enjoy a hearty Pub Meal.
Then maybe we can get to stay at the pub with its new owners? Or then up the road, by vehicle, to your bed for the next two nights at a modern country Backpackers Hostel at the home of a large Sheep Farm.

Day 7. Pongaroa and we definitely deserve a Rest Day
Today is a well-deserved rest day. We are in such a great place with such excellent facilities, let's take time out to explore and enjoy them.

Day 8. And an incredible ride to the "Three Kings Rocks" and beyond
Well watered, washed and rested we still have an ocean to find. Still in the land of hills, hills and more hills, today's trail leads us past more significant natural landmarks. This time it's the unique Three Kings rock formations, a Moon Creator like Papa Bluff and our first look at the Mataikona River Valley and beyond.
Tonight we get a seductive taste of the remote but romantic life of the isolated Deer Hunter back blocks farmer. Seemingly miles from anywhere these hardened pioneers of this land still know how to be comfortable in the wilderness. Here we stay the night perched in a sheltered saddle on the hilltops of this uninhabited wonderland with incredible views in every direction. With a little compromise on the facilities and accommodation at these very well set up Hunters Huts we gain the experience and beauty of life on top of the world.
Day 9. Where are we? Mataikona somewhere?
Now this is real Horse Trekking!! riding countryside that horse riding dreams are made of!
Today we get to ride in the true backcountry of this land, as far away from civilization as we can get on this Trek. An enchanting days ride down through regenerating native bush, across the Pakowhai River valley and out the other side to find our home for the night.
The closest you can get to being lost in the wilderness and still riding out to where you're supposed to be at the end of the day. True Adventure!
Day 10. Time for an Indigenous, Cultural Exchange, at Owahanga Marae.
Yes! We must be close to the sea. I can feel it!
Today, for the first time, we get to meet the Pacific Ocean up close and personal. We've trekked a long way to get our horses feet in waves. A magnificent days ride out of the hills, across the Mataikona River plains and on to a coastal ride up through the historic Owahanga Station.
This Station community is shrouded in a rich history of early coastal farming. With a strong indigenous Maori culture present here, we have a special opportunity to experience a full Maori welcome on to their Marae for a night in the life of the local Maori community. A real taste of the local culture.
What a privilege!
Day 11. And we're off to Akitio to stay a night at the beach.
After an incredibly rich night of local culture, sadly but excitedly, we must now continue on, on this great Odyssey. Today we have a beautifully scenic half-day ride up along the coast through Moanaroa station to the coastal village of Akitio.
To start this day's ride though, we must tackle our last river crossing. Being so close to the ocean here, the time of day of our river crossing depends on the time of low tide. Defiantly an exciting situation to be in, and a wonderful way to start such a picturesque day.
After riding along hilltops above the scenic ocean coastline we come to Akitio. Akitio being a gorgeous little coastal Farming and Fishing village with but a hand full of inhabitants and summer holiday homes. Here we get more well deserved comforts and a must, a banquet of fresh local seafood (depending on availability). Utilizing the modern local facilities here just a hop, skip and jump from the Beach. Absolutely, a most perfect spot to sit, gazing out to sea, while sipping your wine before dinner.
Day 12. More coastal splendor and we're off to Herbertville and Tautane Station.
This coast is so amazing we off to trek further up the coast to another little coastal village called Herbertville. Another exciting days ride up over the historical Akitio Station with yet more magnificent coastal views to indulge in before descending down onto the beach. Defiantly a good day to get to stretch the legs of your horse on the beach, good and proper, as it's all ours for miles. What an exhilarating experience it is to canter your horse along a deserted beach.
All this excitement can make you hungry and thirsty though, so just as well it takes us directly to another oasis in the sand hills. Herbertville, another semi deserted rural settlement is not without it's community treasure, another rural Tavern and yes they are expecting us.
Totally satisfied with a cold drink or two and a buffet lunch it's probably a good thing our next night's stop is a short trot up the metal road. Tautane Station, our last destination on this ride, is a magnificent farm with some of the most incredible coastal landscape.
Here we are treated to their local hospitality and get to try their best tasting New Zealand Lamb.

Day 13. Tautane Station to the Seals at Cape Turnagain.
Being our last day we just have to fit in a small ride up the beach to get a close up look at the Elephant Seals that live at the bottom of the papa bluffs of Cape Turnagain. Another very unique and well named, (by Capt. Cook) piece of New Zealand landscape.
Back to our quarters for a quiet lunch and a relaxing afternoon, to ponder the reality of all that has happened over the last two weeks. There is the option for you to end your adventure at this time but for the rest of us we have one final night to celebrate, share the stories and enjoy everyone's company.
Congratulations!! You've made it!!
Day 14. Freedom!!
Wow!! Now what? You've made it!!
Breakfast and, sadly, it's time to say our goodbyes to our horses and the Pacific Coast as we journey back to where it all began. We will transport everyone back to the beginning of it all for a lunch at our Beyond the Bridge Café, back in Ballance.
From here we will help everyone link up with there relevant Accommodation or transport options.
Timeless Horse Treks - Home of your Favorite Horse Trekking Adventure
Timeless Horse Treks
Cameron Horne
Gorge Road, Ballance RD3, Pahiatua, New Zealand.
Telephone (06) 3766157 Mobile 027 4468536
for more information.