Timeless Horse Treks
Where you can enjoy your dream Horse or Wagon Riding experience.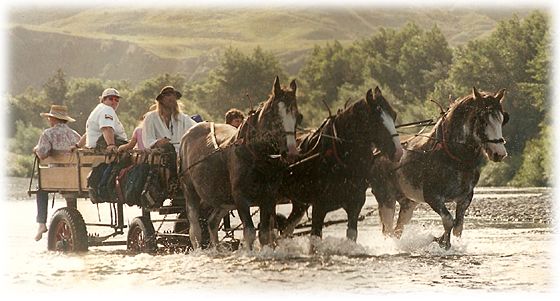 Hi, I am Cameron Horne, owner and operator of Timeless Horse Treks. For twenty years now I have been working, living and traveling with Horses and Horse Drawn vehicles. From venturing off on Horse back with only a pack Horse to living the dream of driving down the road with my own two Clydesdales and home made Gypsy Caravan. From experiencing first hand the wonder of a life with Horses it is my pleasure to share with you the opportunity to have your own great, natural Horse experience.
Here we specialize in a wide range of Clydesdale Horse Drawn Wagon Adventures and Timeless Horse Trekking opportunities..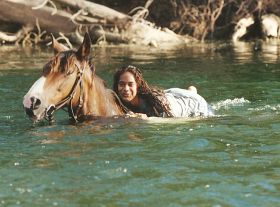 Imagine getting to take your family riding around the peaceful Manawatu River, stopping for a picnic while your children take their Horses for a swim.
Maybe you would like to take your partner on a romantic Overnight Horse Trek and stay the night "on top of the world" at Totara Knob Outpost and look down on the Tararua Wind Farm.
What about bringing your whole group out for some natural, outdoors, equine therapy. We'll load the chilly bins and those too nervous to ride on the Clydesdale Horse Drawn Wagon, and with the Trekking Horses in tow we can head off to the Manawatu River for some time-out around a Campfire Barbeque.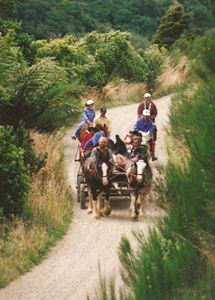 We offer you an excellent selection of Clydesdale Horse Drawn Wagon options and a great team of well-mannered Trekking Horses. From a One Hour Peaceful River Trail or Two Hour Scenic Hill Country to a Overnight Tararua Wind Farm Trek or our unique Eight or Fourteen Day Pioneering Odyssey Treks.
You can come here for your Horse Drawn Wagon Adventure or we can bring our team of Clydesdales and selection of wagons to your event.
Located near the scenic Manawatu Gorge just twenty minutes east of Palmerston North and two hours north of Wellington. A most beautiful, rural spot in a lovely native setting, moments over the Ballance Bridge off state highway three.
Great parking, even for buses, and an excellent Café for that perfect, relaxed setting.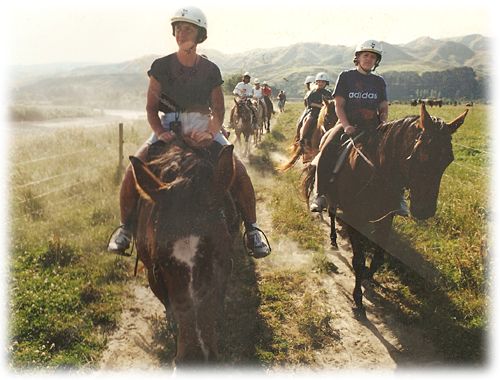 Timeless Horse Treks - Home of your Favorite Horse Trekking Adventure
Timeless Horse Treks
Cameron Horne
Gorge Road, Ballance RD3, Pahiatua, New Zealand.
Telephone (06) 3766157 Mobile 027 4468536
for more information.